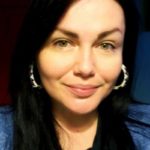 Anna started her own personal journey to alleviate chronic body pain.  While she thought her focus was for the physical pain to go away, she discovered that Reiki offered so much more. In her first Reiki class at Energy Connection, she was delighted to feel a positive shift in her body pain as well as a sense of emotional empowerment.  She found when the emotional and spiritual imbalances tied to her pain began to heal, the physical symptoms were greatly alleviated.  This personal revelation, and the feelings of peace and balance created within, connected her deeply to the experience of Reiki.  Anna believes in the power of positive energy and the intentional energy of Reiki. Feeling emotionally, mentally, physically and spiritually transformed, Reiki changed her life and her outlook and inspired her to become a Reiki Master Practitioner and Teacher.  A larger purpose was born, and she is committed to give the same sense of hope to others who may feel helpless in their own pain.  Recently Anna has added to her private practice by joining the team at Energy Connection, where she continues inspiring and helping others
Anna has been trained in crisis counseling and medical advocacy through PAAR, where she volunteers as a Certified Pennsylvania Sexual Assault Counselor, and comes to Energy Connection with years of experience creating and facilitating empowering programs as Director of Outreach. In her practice, she has helped those who challenge their bodies through the physical demands of their careers, such as athlete James Conner, former Pittsburgh Steeler, as well as offering individualized personal sessions to meet the unique needs of her clientele.  She has also served as Deacon in the Presbyterian Church, is certified in meditation training and has worked with people with disabilities.  Anna will be also facilitating She Gathers, a women's support and empowerment circle at Energy Connection.
Contact Anna at 412 346-8009 or 412 720-5759
Email [email protected]  or [email protected]
Act 33/34 & FBI clearances, trained in First Aid/CPR
Personalized Individual Reiki sessions
Distance Reiki sessions
Specializes in Holistic Trauma Healing
Pain and Stress Management for high physical/mental demands (athletes, first responders, military)
Discounted sessions for First Responders

NEW SERVICE!

 

ROVING REIKI  

Anna will come to your home to give Caregiver Reiki to those who are home caring for their loved ones with disabilities . Call to schedule 412-346-8009. $85/ 1 hour session, local service area- call to discuss. As the mother of a person with Autism Spectrum Disorder, I have been an advocate and caregiver for 18 years and have worked supporting the needs of children with a range of disabilities that make leaving home for their natural caregivers very difficult, especially in these times. I see the need for self care, the need to take some time to relax, but due to the demands of caregiving, cannot come to an office to take that time. Burnout and fatigue are very common results. Reiki offers the opportunity for a person to rest, relax, feel safe and cared for.. If you are a caregiver of a child whose needs require you to stay home and you would like an opportunity to receive reiki in your home, let's do it!