Please note: For ongoing support, our personally written and recorded guided imagery CD's are available for purchase in the Energy Connection online store. Please click here for more information.
Please note that classes are scheduled intermittently. See the Calendar of Events to find out which classes are currently on the schedule.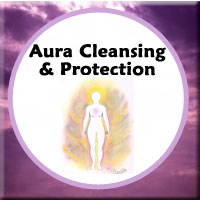 Aura Energy Management – Creating Healthy Boundaries and Grounding Yourself
We all exist within our own energy space. The auric field is a biofield of energy that surrounds the physical body and intimately interacts with the environment and the energy of others. You feel much better if your energy field is defined and has healthy boundaries. When you become energetically vulnerable through negative interactions (bad relationships; conflict; criticism etc.) or persistent exposure to injurious circumstances (job or family situations; chronic illness; rigid rules, etc.) you easily become depleted and even traumatized by allowing circumstances and/or other people to claim your energy. A torn, bulging, depleted, traumatized or otherwise dysfunctional aura space will leave you out of sorts, emotionally spent and just simply not in balance. It is easy to strengthen your aura field and you will learn how to clear, cleanse and protect your personal space. You will be immediately aware of how it feels to be inside an intact and protected energy field as we practice simple techniques.
Instructor: Kathy Duffy
Duration: 2.5 hours
Cost: $30
Click here to register and make payment.