All levels of Reiki are taught at Energy Connection along with a comprehensive Teacher program.  Classes are held at regular intervals throughout the year.  Our spacious classroom has been home for hundreds of happy Reiki students.  If you want quality training within an atmosphere of respect, spirit and humor, we are the school for you!
Your teachers have over 30 years combined experience to bring to your Reiki classes.
Please note that classes are scheduled intermittently. See the Calendar of Events to find out which classes are currently on the schedule.  Reiki can be taught privately as well. 
Level One
Includes introducing you to the concepts of Reiki energy, how it works and what you can use it for, along with the history of the method and its techniques. As an integral part of the Reiki experience, you will receive what is called an "attunement". This peaceful, beautiful meditative segment is part of the tradition of Reiki wherein your energy system is awakened to the intent of allowing energy to flow through you to yourself or another. This is called an empowerment. An empowerment is only given by a trained Reiki Teacher. It is a healing, spiritual experience much treasured by its recipients. You will then be instructed in the particulars of giving a Reiki treatment to yourself as well as others. You will practice Reiki before you leave the first day and be amazed at the results! Training traditionally takes place over 10 hours of instruction; discussion and practice. It is usually divided into a one day Saturday or Sunday seminar, with a completion and practice session on a weekday evening. You receive a professional training Manual and a Certificate of Completion suitable for framing.
Instructors: Kathy Duffy, Janet Jackson
Duration: 10 hours
Cost: $150  ( $75 deposit required to hold your space , see refund policy below)*
Click here to register.
Level Two
This further training is an exciting level of possibilities! It will expand your ability to use Reiki without limits. You will learn and be trained in how to use intention to send Reiki to anyone, anytime and anywhere without the necessity of that person being in your presence. This paves the way for you to use Reiki in many circumstances for many more people. We will discuss the science and the sacred explanations of this concept. A shift in your perception of time and space is guaranteed, because you will experience its ability firsthand and know it is true. Along with this distance technique, is an empowerment to use a specific energetic source for mental/emotional healing which can bring harmony to those states of being. An inspiring 10 hours of instruction, Level Two attunements, discussion and practice in classroom; and partner practice from home will give you a new outlook on energy. Training traditionally 7 hours on a Saturday or Sunday and a 3 hr evening session, along with home practice time. You will receive all instruction, professional Manual and a Certificate
Reiki Level One is a prerequisite for this training.
Instructors: Kathy Duffy, Janet Jackson
Duration: 10 hours
Cost: $225 ($75.00 deposit fee to hold your place – see refund policy below)*
Click here to register.
Level Three, Master Practitioner Level
The third level of the Reiki experience at Energy Connection is a commitment to one's own evolution and healing potential. It is also a pathway to becoming a clearer, more centered Reiki user. In the old tradition of training, some of the teaching of this level would be part and parcel of becoming a Reiki Master Teacher, that is, someone who could teach others and is taught to perform the required empowerments to all levels. We recognize that not everyone is moved to become a Teacher, yet all Reiki users would benefit from the connection to the higher vibration intent of this Master empowerment. Therefore, we are proud to provide this level to any student who has attained their Reiki II Certification. We call this level The Interconnected Master. This title embodies the intent of the attunement to open the student to refined communication with their own wisdom source as well as connecting to their spiritual essence even more fully. Students have noticed a strong development of their intuitive processes after the class. Training includes classroom time, independent homework, follow up group discussion and individual consultation with your teacher.
Reiki Two Certification is a prerequisite. Tuition includes all training and consultation, Manual and Certificate.
Instructors: Kathy Duffy, Janet Jackson
Duration: 10 hours
Cost: $300   ($100 deposit fee to hold your place, see refund policy below)*
Click here to register.
REFUND POLICY FOR REIKI LEVELS ONE, TWO, THREE…  Student cancellations/no shows for Reiki classes will be assessed a $30 fee.  Excess prepaid will either be refunded or credited toward subsequent class.  If we cancel the class, all fees are refundable or credited at your choice.
Master Teacher Level
To become a Reiki Teacher is a privilege and a responsibility. To those so moved, we have an excellent intern program at Energy Connection. Our program is based upon over 13 years of teaching experience. After applying and being accepted into the program, you will choose a principal mentor among our instructors. Your mentor will monitor and assist your progress throughout the process. Each student's intern period is contingent upon their pace in completing the course requirements. During the Teacher internship, the student observes all levels of Reiki classes – learning how to conduct a class and present learning material. The attunement process will be explained and practiced. The ethics and code of conduct of a Reiki Teacher is covered. The student is also expected to participate in Reiki programs; do reading and writing in related areas and perform a requisite number of Reiki practice hours. The Reiki intern will also experience a personal growth through this process and has access to one on one contact with their mentor. We also have lots of fun! Our graduates are fully equipped to conduct Reiki instruction for all levels, whether they choose to teach individuals or groups; and can do so with confidence and conviction.
To apply for the Master/Teacher program, please contact the Energy Connection for more information.
Proof of certification in Reiki I, II and III is required.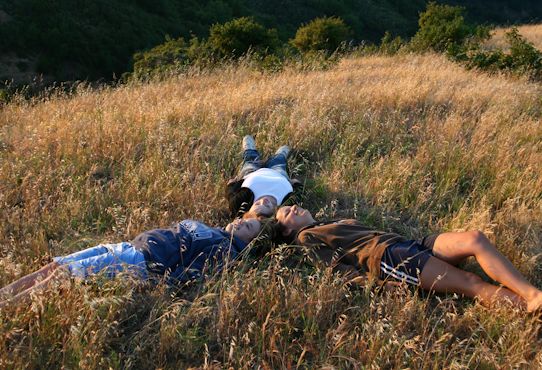 KID'S Reiki Training Class and TWEEN/TEEN Training Class
For School Age Children   6-16
Children are naturally open to the idea of sharing loving energy. Our specially designed Reiki for Kid's Class and Tween/Teen Class are a simplified version of traditional Usui Reiki. In easily understood concepts they are introduced to the idea of the flow of energy; how to start its flow and the proper ways to use Reiki. We encourage first and foremost the use of Reiki for themselves as a calming and healing skill. We also promote the use of Reiki with their family members and pets. Initiating Reiki for use by children is a simple visualization technique. A Reiki blessing and guided imagery is used as initiation and they will practice Reiki on each other in class. They will receive a Certificate of Completion.
Instructors: Kathy Duffy, Janet Jackson
Duration: 4 hours with plentiful breaks (parents are encouraged to attend, especially with younger kids)
IF YOU HAVE A GROUP OF 4 OR MORE CONTACT US TO SCHEDULE A CLASS JUST FOR YOU!
OR CHECK OUR CALENDAR FOR SCHEDULED CLASSES
[email protected]   – Contact for more information
Click here to register your child.