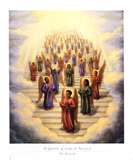 H.U.G.G. Angel Healing Method
Healing with the Universal Grace of God
HUGG is special. This wonderful spiritual healing modality brings Angelic harmony and healing pulsing through your energetic being. The Grace of God promotes the integration and flow of healing as you experience lasting release of mind, body and spirit debris, leaving you in profound peace. The Archangels oversee and support the healing process as you transcend that which may be keeping you back. You can definitely feel the presence of pure light and love. This method was divinely inspired and delivered to your teachers, Janet Jackson and Kathy Duffy in meditation and prayer. We are excited and humbled by what has transpired since initiating the spiritual healing of HUGG. Many have felt the positive effects in private sessions and report unique feelings and experiences. We are now offering HUGG training so that you may perform this healing for yourself and for others. The initial HUGG class is only 3 hours…yet it offers countless blessings and timeless return. This is an easily learned method so it is available to all who seek a deep spiritual practice to enhance their lives and make a difference to others. We hope you will look into receiving a HUGG session for yourself so you can see what we mean . Contact Janet Jackson or Kathy Duffy for more information or to schedule an appointment. Register for the next training class too…you will be everlastingly happy you did!
Instructors: Kathy Duffy, Janet Jackson
Duration: 3 hours
Cost: $100 Level One Training – includes instruction and manual
Click here to register and make payment.