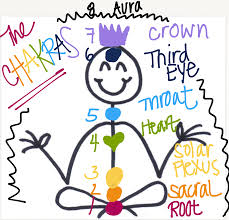 MANIFESTING THROUGH SPIRITUAL TECHNOLOGY
In the age of technology, we understand how a system like a computer program reacts to certain commands.  If we input the correct command we experience the positive effect.  We know we need to utilize the correct input to achieve our desired output.  We go through a specific sequence of instructions to the computer program to achieve a specific end result. Random doesn't work!  In simple terms, if we don't go through the correct steps, with a clear understanding of our desired outcome, it's akin to asking a calculator to act as a dictionary.
In spiritual technology we can use this analogy to understand we have an energy program called the Chakra system.  It is our subtle energy computer that organizes our beliefs, thought patterns and experiences.  We encode it throughout our life, mostly unconsciously.   If we don't understand the coding, we won't manifest our desired outcome.  The chakra system is our manifesting computer.
 Individual Chakra work:
If you would like to work one on one…here are a few options for you.  If you feel you need something "custom made", just call and request a consultation.
WHAT DO YOUR CHAKRAS SHOW ME?    Kathy Duffy, Reiki Master Teacher/ Energy Field Specialist/ Intuitive           Chakras are part of the human energy field…the part of you that develops from birth (and even before) constantly downloading and processing your life experiences. Life experiences = chakra energy.   The energy that moves in your chakras broadcasts throughout your physical, mental and emotional aspects influencing them in powerful ways.  When there is a disruption in the flow within the chakra it has a very real effect on you.  A chakra can be congested, overactive, under-active, weak, blocked, exhausted. Chronically unbalanced chakra system has long term effects.  A disrupted chakra also affects your aura or energy field that surrounds and holds you.  That can weaken you and leave you vulnerable to another's energy.  When your chakra system is balanced and flowing you will feel an immediate shift.  If you maintain a free flowing chakra system you will discover the value of connected and vital energy in all aspects of your life.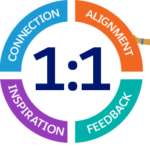 In a one on one session, I do an assessment of your chakra energy I tune into you and feel/sense/see your energies. I allow information to flow from that and let you know what I intuit.  The information here can tell me how to advise you in achieving (manifesting) your goals, whether they are physical, mental or emotional changes you want to make or perhaps how to move forward.   This is reinforced in a table session to balance your chakras, energy fields and allow the flow of Reiki to harmonize your healing.  Sessions are typically 1.5 to 2 hrs.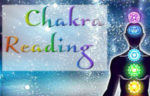 A Chakra Reading offers you insight and a means of understanding your own process.  It can assist your self awareness and that is always a good thing!
CHAKRA READING – Emailed to you           Kathy Duffy
Would you like a written reading/assessment of your chakra system?  Each of your chakras (your spiritual/physical computer station) holds a reflection of what is going on in your energy system right now.  By getting a reading of the nature and vibration of the flow, I can offer you some insight into what is influencing your present state.  Starting at the crown I scan for information, symbolism, emotional conditions, etc. through each chakra and let you know what I sense and feel.   The language of energy is a powerful indicator of what you might want to put your attention on to heal, balance and move forward and to get to know yourself in a whole new way.   I have been working with chakra language for over 30 years and I know it provides excellent information for healing and clarity.  The comprehensive assessment will be emailed to you for your reference.  Contact [email protected] to order.  Cost is $75
For more discussion about the chakra system read the post "Chakras, The Energy that Teaches"
Deep Chakra and Aura Balancing –  The chakras and aura  respond very well to energetic clearing and balancing.   There are techniques to reach deep into the energy of the chakras to ascertain and balance for optimum results. The aura surrounds and supports the entire energy field and therefore is sensitive to disturbance from outside as well as being affected by the state of your chakra energy. Having a thorough clearing and balance in these vital energy fields is supportive, healing and a means to get or keep you on track.    This is a table session or can be done at a distance.
Deep Chakra and Aura Cleanse/Balance –  $75
Call Kathy at 724 863 2309   Text at 724 493-3395 or [email protected]